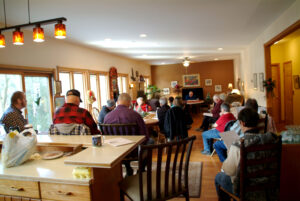 Listen to audio above while following along with transcript below (also available for download in Word at www.biblestudyministriesinc.com)
As we come to look in God's Word there's that indispensable principle of all Bible studies, and that is total reliance on God's Holy Spirit. I want to share a couple of verses from Hebrews 13:8&9, "Jesus Christ is the same yesterday and today and forever. Do not be carried away by varied and strange teaching. It's good for the heart to be strengthened by grace." Isn't that a wonderful passage? All the Lord ever way, He is right now, and all He ever will be, He is right now. Some day He'll be King of Kings and Lord of Lords, and He's that right now. He's the same yesterday, today and forever. As we go through our study, you'll why I selected that passage, because it ties in with our message in 1 Peter.
Our Father, how we thank You for the privilege we have to gather in this room. We thank You, Lord, for the sisters who have opened their home so that we can meet. We thank You for the indwelling Holy Spirit whose delight it always is to turn our eyes in a fresh way to the Lord Jesus. We want to see Him again today, and we thank You that we can trust You to guide us right into His presence. So, we commit this time unto You, this little session, and protect Your people from anything that is not from You. We ask in Jesus' name. Amen.
For a quick review, and then we'll pick up where we left off. I want to mention again the great theme of this precious epistle. It's written, as you know, to suffering Christians. They were under persecution. And to all Christians who share the fellowship of His suffering to any degree. So, it's written to everyone of us, and Peter addresses them as pilgrims, as strangers and aliens in this world. They reside here, but they don't live here. 1 Peter 2:11, "I urge you as aliens and strangers, to abstain from fleshly lusts which was against the soul." The KJV says, "pilgrims", "I urge you as pilgrims," those who have been redeemed from this world.
Peter reminds us in the epistle, that we are all pilgrims but not one of us is qualified to be a Pilgrim after God's heart. He makes a big point of that, and he calls attention to the fact that only One is qualified. That One is our Lord Jesus Christ, and He lived on the earth as a model Pilgrim. He demonstrated the Pilgrim Life in His Person when He was in His incarnate body. He becomes our single hope that we could ever live a pilgrim life. Listen to 1 Peter 1:3, "Blessed be the God and Father of our Lord Jesus Christ, who according to His great mercy, has caused us to be born again to a living hope through the resurrection of Jesus Christ from the dead." The resurrection of Christ is our only hope. He's our Living Hope, the Living Christ.
In other words, to live the Christian life, to live in this world as a pilgrim after God's heart, redeemed, detached, to live a holy life, sanctified, separated, a life of obedience, as a stranger and a pilgrim, there is no hope in Ed Miller, and there is no hope in you. We have no hope, and we can't live that kind of a life. We're hopeless, but Jesus alive becomes the Living Hope. Now He lives in us, and that is our only, our single hope. The Perfect Pilgrim wants to live in you, wants to live in me, and live out that Pilgrim experience. So, He's the perfect Pilgrim in my heart, perfect Pilgrim in your heart, and He will enable us to live that separated life, that holy life, that life of union and obedience to Him.
That gives me hope, and if you believe that good news, that gospel, then that gives you hope. It's a living hope that the Living Christ lives in our heart. No matter what comes into our life, and remember that Peter was writing to Christians in the extreme case. They were being persecuted and being martyred. He was saying that you can live victoriously. There's hope for that, because Jesus lives in your heart.
I want to pick up where we left off last time. I was discussing this expression, "all things are redemptive," and we were discussing this in the context that Christ lives in me, Christ lives in you, and He wants to manifest Himself through us. We went into that explanation a couple of weeks past that He is in me as a seed, and through me as a tree of Life. That seed grows into fruit that the world can taste. From God's viewpoint everything is redemptive. He loved sinners. He came to save them. 2 Peter 3:9, "The Lord is not slow about His promise as some count slowness, but is patient toward you, not wishing for any to perish, but for all to come to redemption." When He lived in His first body, His incarnate body, He came and sacrificed Himself so that they could be saved. Peter presents the privilege that He now allows us to experience, and that is that Christ lives in us to be redemptive for us and through us to the world.
I want to review the large point I made last time on how Jesus was redemptive when He lived on the earth. I called attention to a surprising truth, at least it was surprising to me. It may not be surprising to everybody. That is that although it was His purpose to save sinners, when He lived on the earth that was not His motive. I made a big point of that because Peter does. Luke 19:10, "The Son of Man is come to seek and to save that which is lost." Nobody would deny that's why He came, to win souls, missions, evangelism, to redeem sinners, to reconcile man to God. That's why He came. He wasn't looking every day, however, for opportunity, "I wonder who I can witness to today," "I wonder how I can spread the gospel today." That was not His motive. He had a higher motivation.
As the perfect Pilgrim, He left the redemptive part to the One who indwelt Him, His Father. John 10:37, "If I do not the works of My Father, do not believe Me, but if I do them, though you do not believe Me, believe the works, so that you may know and understand the Father is in Me and I am in the Father." That's how He lived. His Father was living in Him, and that was His focus every day. John 4:34, "Jesus said to them, 'My food, my meat is to do the will of Him who sent me to accomplish His work." John 5:30, "'I can do nothing,' Jesus said, 'on My own initiative. As I hear, I judge, and My judgment is just because I do not seek My own will but the will of Him who sent Me.'" All through the life of Christ, though His purpose was to save, His motive was to do the will of the One who lived inside. His meat, every day, His food was to just do whatever God said. He said, "I don't initiate. He tells me where to go, and tells me what to do, tells me when to do a miracle, tells me who to talk to, and I only live this way, vertically." John 8:29, "He who sent Me is with Me. He has not left Me alone. I always do the things that are pleasing to Him." That was His motivation. It was vertical. "God lives in Me. The Father lives in Me, and I want to please Him."
That didn't change the fact that He came to die, and it didn't change His focus, His motive for one moment. Peter words it this way, 1 Peter 2:23, "While being reviled, He did not revile in return." Jesus had undeserved suffering in His life. "He uttered no threats but kept entrusting Himself to Him who judges righteously." Whatever came into the life of the Lord Jesus, He just trusted the One that allowed it, the One who lived in His heart, the Father.
How was that redemptive? The answer is 2 Corinthians 5:19, while Jesus focused on pleasing His Father, "God was in Christ reconciling the world to Himself, not counting their trespasses against them, and He has committed unto us the word of reconciliation." Jesus looked to His indwelling Father, and His Father reached out for the world. That became the model for the pilgrim life. John 3:16, you know it well, "God so loved the world that He sent His Son…" It became redemptive, "That whoever believes in Him would not perish but have everlasting life." He went after His Father's heart, and His Father's heart went after the world. See how that works? All of that to say that was the model for us. 1 Peter 2:21, "You've been called for this purpose. Since Christ also suffered for you, leaving you an example to follow in His steps." We're told to live as He lived. John 6:57, "As the living Father sent Me, and as I live because of the Father, so he who eats Me will live because of Me." Our meat is to do the will of the One who indwells us, as His meat was to the will of the One who indwelt Him. John 20:21, "Jesus said to them again, 'Peace be with you. As the Father sent Me,'" He's the example, the model, "so I send you.'" It's exactly the same. 1 John 4:17, "By this, love is perfected with us, so that we may have confidence in the day of judgment, because as He is, so also are we in this world."
He demonstrated how it was to be done, and now we have that great privilege. The same Jesus who lived in His incarnate body now lives in His new body, the church. He lives in you, and He lives in me, and He indwells us exactly the same way the Father indwelt Him. We are to trust Him with everything that comes into our lives the same way that He trusted the Father for everything that came into His life. Our focus on Him is to be exactly the same as His focus was on His Father, His pleasure, His will, whatever pleases Him. As He gave thanks for everything the Lord allowed in His life, so that God could make it redemptive, we are to give thanks for everything He brings into our life for the very same purpose, because He makes it redemptive.
That's where we left off in our discussion, calling attention to the difference between the purpose and the motive, the direction. 1 Peter 2:12, "Keep your behavior excellent among the gentiles, so that in the thing in which they slander you as evil doers, they may, because of your good deeds, as they observe them, glorify God in the day of visitation." That day of visitation is the day when God actually visits the sinner, because He's used something redemptively in your life. So, God allows something, and you respond by committing it to the One who lives inside you, and others watch you, they see that, and God visits them, and they get saved.
We're not quite through with that truth that everything is redemptive, because as you've noticed of the many things God has allowed in your life, not every time does someone get saved. We need to discuss that part. There's another aspect to redemptive living. Again, Peter is using the extreme example, martyrdom, you can lose your life. Well, maybe I'm not going to be called to be a martyr and lose my life, but I've had a problem, and I lost my keys, and I lost my pen, and I lost my glasses. Sometimes it gets a little tougher, and I lost a loved one, or I lost a friend, or I lost my pet. Those are big things. Peter is giving the big example to include all of the lesser examples. Whatever you lose, whether it's your security or your health or I think I'm losing my mind, but we can trust the Lord in these things, and they become redemptive, because no matter what you think, I promise you that you are under the glass, and you're being watched. Others are observing. Sometimes it's direct, and they get saved. God visits them, but sometimes it's not that.
I don't want to communicate the idea, by saying, "All things are redemptive," that every time God allows something negative in your life that somebody is going turn to the Lord. But every time it will be redemptive. In what sense? Either He is redeeming, saving, and let me state the principle in terms of Peter's illustration. The principle is this, that everything that God allows in my life will be redemptive in one of two ways, either it will bring someone to the Lord right away, or the Lord is living in my life redemptively to make it possible for someone to come to the Lord. John 12:32, "If I be lifted up from the earth, will draw all men." He's drawing others, and what is going on in your life as they watch, they might not respond right away, but He's drawing them, and using that as their opportunity. John 6:44, "No one can come to Me unless the Father who sent Me draws him," and He draws by using you and me, and what He allows in our life. That is how He is drawing. So, He draws everybody, and He saves somebody, but He's always drawing, giving them that opportunity.
What is Peter's illustration? It's Noah. He used Noah to illustrate this aspect. 1 Peter 3:20, "Who once were disobedient when the patience of God kept waiting in the days of Noah, during the construction of the ark in which a few, that is eight persons, were brought safely through the water." God was patiently drawing for 120 years through Noah, and only eight got saved. Do you see the point? God sometimes saves some, but He's drawing, patiently drawing, still using your life redemptively. KJV says, "the long suffering of God." If you think of it that way, God is going to use whatever is in my life, either my suffering or my long suffering. When the patience of God waits, sometimes what's going on in your life goes on and on, and it doesn't stop, and God wants you to know that He's using that. Trust Him for the patience as that thing is extended, because He is either visiting people or drawing people, but He's using you redemptively. Everything in my life is redemptive.
Let me give one illustration on this. There's a dear lady, and how she loved the Lord when I was up in Rhode Island. She was not being chastened, but she had a health issue and they had to amputate one of her legs. I went to pray and talk with her just before she went under the knife. As I was talking, I wanted her to know, because she was so humble that she thought, "What did I do wrong, and God's going to punish me," and all of that. I wanted her to get by that, so maybe I didn't use the right scripture, but I used pruning, cutting off a limb. I used that scripture because it says that He prunes to bring forth more fruit, and I said, "This might not even be for you." Lillian was there, and she looked up and she said, "Well, I hope they appreciate it."
Anyway, all things are redemptive. The redemptive part honestly is not my business, and that's not your business. Your business is to trust the One who lives inside and do His pleasure and let Him initiate and obey Him when He commands, and follow Him, and just live unto Him, and then He, as the Father was redeeming the world through Him, now He is redeeming the world through you and through me.
That brings us, then, to Peter's great illustration of this second aspect, Peter. Since that is in chapter 3:18-4:6, it's often referred to as the "spirits in prison" passage." 1 Peter 3:19, "In which He went and made proclamation to the spirits in prison." I gave you a handout sheet there. Because this passage in 1 Peter has been variously interpreted, different people interpreting it in different ways, I didn't want to by-pass it. I don't want to just step over it because it's a thorny passage, as if it didn't exist. The hand-out sheet doesn't solve the problems of this passage, but I hope that I identified the problem with that sheet. Since the passage in the minds of many is a controversial passage… In fact, on the sheet I quoted Dr. Whaling, the former president of the Columbia Theological Seminary. Don't confuse that with the school I went to, Columbia Bible College which is now called Columbia International University. It's a different seminary altogether.
Anyway, he claimed that he studied that passage and found 59 different interpretations on that passage in 1 Peter 3. It's been called by commentators "the most disputed passage in the New Testament." I don't know if that's true or not but leave it to Peter to have the most disputed passage in the New Testament. He's the one who said of the Apostle Paul, 2 Peter 3, "Regard the patience of our Lord as salvation, just as our beloved Paul, according to the wisdom given him, wrote to you, as also in all his letters, speaking in them of these things in which some things are hard to understand, which the untaught and unstable distort, as they do the rest of scripture." Peter says, "You've been reading Paul, boy, some of that is tough to understand." I think if Paul read chapter 3 of Peter, he'd be scratching his head, as well.
Anyway, if it's a disputed passage, sometimes it's distorted. That's one of the reasons I want to deal with it. The reason I'm going to spend a little time today is not because I think I have the answers, and I'll explain this disputed passage, because clearly Godly men and Godly women disagree on the interpretation of this passage. I want to use it because it's a sample problem passage. What I mean by that, this gives me an opportunity to suggest how to approach problem passages. I want to use that to make some suggestions on how to approach disputed passages, and not only this one, but I don't want to lose a teaching opportunity. Since it is a disputed passage, I'd like to give some suggestions when you come to other problem passages, how you should approach those.
Often in the approach to any theological problem passage, the approach is often more important than the conclusion. I'll tell you why. If you're butting heads with a brother or sister over some theological issue, and you have better proof texts than they do, you might win the argument and lose a brother. You might win the argument and lose a sister. All I'm trying to suggest is that we need to be Christ-centered when we approach these passages, so that we're not divisive, so that we don't cut others off, and start a new denomination because we disagree on this particular thing. It happens a lot. I know seminaries that have started over silly things. When I was pastoring a church up in Rhode Island, we split, the church split over, "should we put gravel or seashells in the driveway." That caused the church to split. I said, "Who is the pastor of this church?" It was me.
I'm not saying to be wishy-washy. Know what you believe, why and take a rugged stand on what you believe, but don't drive away others who may disagree with you, and drive them out of the circle of God's love, because we're all one in it. Let me give you two passages from Ephesians 4:3, "Being diligent to preserve the unity of the spirit in the bond of peace," verse 13, "until we all attain to the unity of the faith and the knowledge of the Son of God."
With that in mind, let me start by suggesting principles, "How do I approach problem passages?" Of course, the first and most important principle is the indispensable principle. Trust the Holy Spirit to guide you in your study. I'm not suggesting that you'll only need the Holy Spirit when you come to problem passages. You need the Holy Spirit when you come to non-problem passages. We need the Holy Spirit all the time when we study the Word of God, even if it seems clear. Without the Holy Spirit our understanding of spiritual reality is going to be frustrated. We're not going to get it. We need the Holy Spirit. In addition to that indispensable principle which I just take for granted, and even if you forget the next three, apply the one and you'll be safe. I'd like to suggest three more principles when you come to a problem passage.
The first principle is this, when you come to a problem passage, try to find out if there is anything that is 100% clear about that passage, because if you start off… The other day I was invited out by some of my family members to go to a restaurant, and off I went. At the end they finally told me, "You know, your shirt is inside out." I didn't know my shirt was inside out. I've already started to button my shirt and started with the wrong button, and you never end up right. If you start with something that is not 100% clear, the further you go along the further you are going to depart from that particular truth of God. So, make sure that it's clear.
I'll give you a couple of examples. I know a dear sister, 1 John 3:9, "No one who is born of God practices sin, because His seed abides in him, and he cannot sin because he's born of God." Now, that's a problem passage. She came to that passage, and she came not finding something 100% clear, she said, "He that is born of God cannot sin." She said that she had not sinned from the time she was saved. She believed that she was perfect. I'm not going to argue with her. I could say, "You must be proud of that record." I'm not going to argue with her. The point is that it's not 100% clear. Listen to the same book, same author, 1 John 5:18, "We know no one who is born of God sins. He who was born of God keeps him and the evil one does not touch him." "He who is born of God keeps him." Who is born of God? That's Jesus. Who is the sinless One born of God? It's not that sister. Because she started with the wrong button, her shirt is a little skewed, I think.
Let me give another example. There are some prophetic teachers, I think, who claim that certain things are so, and they start with what is not 100% certain. An awful lot of these prophetic teachers are just religious tea leaves fortune tellers. I'll give one example of that. For years maybe you've heard, "Jesus is coming soon." They were teaching that 50 years ago, and that proves that they lied. They started with something that is not scriptural. The Bible never says that He's coming soon. It says that He's coming quickly. He's coming without notice. He's coming like a thief. But if you start by saying, "He's coming soon," you can go down a wrong path.
Many Christians have been encouraged to live defeated Christian lives because they've come to Romans 7, and they said, "Romans 7, this is what a Christian life looks like." Romans 7:15, "What I'm doing I do not understand. I'm not practicing what I'd like to do. I'm doing the very thing I hate." Now I have an excuse for how I'm living. Romans 7:18, "I know nothing good dwells in me, that is in my flesh. The willing is present in me, but the doing of the good is not, for the good that I want, I do not do, but I practice the very evil that I do not want." So, they teach that Paul was teaching that the Christian life is a defeated life. Well, you know better than that. The Christian life is not a defeated life. So, since the starting point is patently false, you are going to go on a strange path.
Let's come back to Peter. Let me apply it to 1 Peter 3 and the first part of chapter four. The main body of those who would interpret this chapter begin at the same place. In my own view it's uncertain. They begin in an uncertain place. When you get the chance later read those four chief interpretations that I"ve handed out, and almost all the variations that are out there are based on these interpretations, and these interpretations are all based on the same presupposition, and that is that our Lord Jesus between His death and resurrection, the time He died on Friday and the time He rose on Sunday morning, during those three days Jesus went somewhere and proclaimed something to somebody. That happened during those three days. It's assumed to be true in all the different views that during those three days when His body was in the tomb, His Spirit went some place called, "to the spirits in prison."
1 Peter 3:18, "Christ died for our sins once for all, the just for the unjust, that He might bring us to God, but having been put to death in the flesh, but made alive in the Spirit in which, also, He went and made proclamation to Spirits in prison." So, you see where they get that. But is it 100% certain that during those three days that Jesus went somewhere? When He was on the cross, Luke 23, talking to the thief, the thief said, "'Jesus, remember me when you come in Your kingdom.' And He said to him, 'Truly I say to you, today you shall be with me in Paradise.'" Is Paradise the prison? Luke 23:46, "Jesus, crying out with a loud voice said, 'Father, into Your hands I commit My Spirit.' Having said this, He breathed His last." Where did His Spirit go when He committed it into the Father's hand? I'm convinced that wherever that was, that's where the thief went, too, because He said, "Today you will be with Me where I am." Stephen used the exact same expression, and He saw Jesus standing at the right hand of God and committed his spirit to Him.
Now, I'm not saying dogmatically that during those three days between the death of Christ and the resurrection Jesus didn't have some kind of a ministry. Maybe He did and maybe He didn't, but I am saying this, it's not 100% certain. A large doctrine is based on something that is not 100% certain. I do believe that God would never rest any important doctrine on something that is not 100% certain.
I grew up in a Lutheran church and have you ever heard the Apostles Creed? Let me tell you two things about the Apostles Creed. First, it had nothing to do with the Apostles, because it was a couple of hundred years later. Then, the expression, "He was crucified, dead and buried and He ascended into hell," that expression that He descended into hell was not in the original Apostles Creed. That wasn't added until three hundred years later. That was to prove a doctrine. They used this text because it's questionable, and they said that He descended into hell, and when He went down there in His Spirit He preached, it depends on the views, sometimes to unbelievers or some say that it was to believers, and others say it was to demons, and others say it was to good angels, and all that. Anyway, I remember after I came to the Lord in 1958 and went to the Lutheran Church, and they did the Apostles Creed and we quoted that every week. I'm a new Christian, and I came to, "He descended into hell," and I said, "That can't be right!" After that I never quoted it, because I hadn't studied it, but in my spirit, I just knew that could not be true.
One of the interpretations is that Jesus in His disembodied Spirit went to the sinners that were sinners in Noah's day and had died, and went to them to offer them another chance for salvation, and they teach that based on verse 19 & 20, "In which He went and made proclamation to the spirits now in prison who once were disobedient, when the patience of God kept waiting in the days of Noah, during the construction of the ark in which a few, that is eight persons were brought safely through the water." We know that can't be true because it contradicts with clear passages that teach the opposite. Bible will never contradict itself. Luke 16:26, "Beside this, between us and you there is a great chasm fixed, so that those who wish to come over from here to you will not be able, and that none may cross over from there to us." There is a great gulf fixed. I like to say it this way, dying time is fixing time. There's no opportunity after death to receive the Lord. Hebrews 9:27, "In as much it's appointed for men to die once, and after that comes the judgment." I'm 100% certain Jesus didn't offer a second chance to sinners who had already died. And if so, why only the sinners in Noah's day? Wouldn't He have been kind enough to offer it to all and have everybody get a second chance, which some interpret as Universal salvation. It's based on that very verse.
Someone might say, "Well, if a person dies without Christ, they're going to be separated from God forever, why is hell eternal?" In other words, if a person is guilty of fifty or sixty years of sin, why does he have to suffer in hell for all eternity? Why can't he just suffer for fifty or sixty years, or a little more than that, depending on the offense? There are two answers to the question. The first answer is that we are finite, and all sin is against an infinite God. To sin against an infinite God deserves infinite wages, and it would take us all eternity to begin to pay, and in fact we couldn't pay, because we're sinning against an infinite God. That's why we needed Jesus, because He, being God, infinite, could crush in three hours all we would have suffered if we had gone to hell forever. So, He took three hours and crushed the eternity of a world of sinners into that space.
There's another answer to the question of why eternity. Mark 3:29, "Whoever blasphemes against the Holy Spirit," and basically that's reject Christ the Holy Spirit offers, "never has forgiveness, but is guilty of an eternal sin." You say a person sins fifty or sixty years and he's got to go to hell forever. No, he's guilty of an eternal sin. It will never stop, forever and ever. Now, I speak as a fool, but imagine if God were to send a messenger to hell, and someone has been there for ten million years, and says, "Now, if you accept Christ, we'll let you out." Would they say, "Yes."? And the answer is that they would say, "No." Listen to Revelation 16:11, "They blasphemed the God of heaven, because of their pains and their swords, and they did not repent of their sin." Nobody in hell would even take a second chance, if they were offered a second chance. So, those teachings of the second chance, the larger hope, purgatory, those teachings come from a misunderstanding of 1 Peter 3. So, I think we need to know that.
Let me just say this. There is as much comfort in my heart knowing what something doesn't mean, then there is in knowing what it does mean. I'm so glad for certain things that I know what they don't mean. Let me give a couple of illustrations. I know this, there are people in our family who would come and say, "You can lose your salvation," and then they quote verses. Well, I don't always know what those verses mean, but I know what they don't mean. They can't contradict what I know to be true. No one is going to pluck anybody out of my hand.
Let me give a second principle. Study the passage in context. It's so important. What is the author intending and what is he talking about? If you lift a passage from its context, the possibility of misinterpreting that passage, and going down a path that God never intended, is just multiplied. There's a context to certain things. If you study questionable practices or spiritual gifts, you better study it in the context. For example, women's place in the church. You hear a lot about this. "Should a woman teach," and all of that. If you don't study that in the context of the abuse of the gift of tongues, you are never going to get God's heart on women's place in the church. There's a context, and you need that context. Sometimes it's historical background, and sometimes it's cultural background, and sometimes it's in keeping with the message of the book, like would Peter all of a sudden say, "Persecuted Christians, Christ lives in you, and everything is redemptive. Let me tell you what happened in the days of Noah when…" He wouldn't have changed the subject like that, I don't think.
John 5:1-11, he gives the story of the vine and the branches, and he says, "You abide in the branch in order to bear fruit," the message of that parable is fruit bearing by abiding in Christ. That's the message. But then in verse 6 it says, "if anyone does not abide in Me, he's thrown away as a branch and is dried up. They gather them and cast them into the fire and they are burned." Someone says, "See, you can lose your salvation. You were abiding, you got cut off, you got bound up and now you are going to be burned." He's not talking about eternity. He's not talking about heaven. He's not talking about hell. He's talking about fruit bearing by abiding in Jesus, and if you don't abide in Jesus, you are worthless as far as fruit bearing is concerned, as worthless as a branch cut off from its natural vine. That's all he's saying, but you need the context of that.
In 1 Peter, Peter is addressing suffering Christians who need to know that the One true Pilgrim lives in their heart, and when He lives in them, He makes them redemptive. I'm saying that Peter didn't all of a sudden change direction and say, "Dear suffering Christian, do you know where Jesus went in the three days between His death and His resurrection?" He's not giving a lesson, as Aubrey was suggesting here. Peter is not writing out this great theology thing, "Now, when a person dies, their body goes in the grave and their spirit goes to holding tank called 'prison,' and there is a big room, and it's called Sheol, the place of departed spirits. Now, there's two compartments. Some say there is a wall and there is the bad and the good. Some say that its two floors, the upper and the lower, but either way there are two compartments. This one compartment holds bad people and is called Hades or Tartarus or Gehenna, and the other compartment is called Paradis or Abraham's Bosom, and there's two different compartments. Between death and the resurrection of Christ, Jesus had to go to that compartment, because in the good room the Old Testament saints had been there for all that time. So, He went down getting the keys to unlock that prison and release all those Old Testament saints, so that when He finally rules, they will rise with Him and when He ascended they could finally go to heaven. Nobody went to heaven before that time. That's what the theologians say Peter is talking about. That tremendous doctrine is based on a questionable passage, and so I scratch my head.
Anyway, let me show you why Peter used Noah and how he ties it in. The last principle I would give is this; be humble when you come to a problem passage. Don't think that you know it all, and don't think that you've got all the answers. Give room for Godly men and women who have honest approaches that are different from you. My approach is, when I come to a problem passage, and I use those principles, I incline toward the view with the fewest problems. They all have problems, but I incline to the view with the fewest problems, until I get more light, and then when I finally get the revelation, now I say, "I have preaching conviction, so now I can preach it. It's from God." Until then, in my present light, this is how I view things. So, let me tell you why Peter, in the context of 1 Peter, brought up Noah.
1 Peter 3:18, "For Christ also died for sins once for all, the just for the unjust, so that He might bring us to God, having been put to death in the flesh, but made alive in the spirit…" Hold that expression, "made alive in the spirit." One of the problems I know is, was that the human spirit or was that the Holy Spirit? Capital letters are not going to help you. That's the translator's decision. In the original they were not capital letters. So, you don't know that. I take it to be the Holy Spirit, and I think that what he's saying is, "Persecuted saints, the Spirit of God raised Jesus from the dead. Don't count in strange you are going through this. You think you are going through something unique, that this is new to you. Do you realize that this was taking place during the days of Noah?"
1 Peter 3:19, "In which He went and made proclamation to the spirits now in prison who once were disobedient when the patience of God kept waiting in the days of Noah." 2 Peter 2:5 calls Noah, "a preacher of righteousness," and Peter is saying, "The same Spirit of God that raised Jesus from the dead is the same Spirit of God that lived in Noah and preached to those people when they were alive, before they died. It's the same Holy Spirit." Then look at chapter 4:6, "The gospel has for this purpose been preached even to those who are dead, though they are judged in the flesh as men, they may live in the spirit." This is spiritual death.
So, here's what he's saying, if I understand it with my present light, and I'm ready to have you teach me differently. "The same Spirit that raised Jesus from the dead twenty-five hundred years ago, worked through Noah and used him redemptively, and preached to those dead people, and now you're going through stuff, and the same Holy Spirit that raised Him that is in Noah, is now living in you and through you." It's the same Holy Spirit, because, and that's why I started here, Jesus Christ is the same yesterday, today and forever. And I think that's what Peter was saying.
Having answered that to my full satisfaction.
Heavenly Father, thank You for Your precious Word, not what we think it means, but everything You've inspired it to mean. Help us to understand that. We thank You for the great truths that in relation to the Godhead, Jesus is central, and in relation to the angels, He's the object of worship, in relation to Christians He is intimate and is the living Seed in us and a tree of life through us, and in relation to the world He is redemptive. Oh, Lord, help us to enter into these great truths. Burn them in our heart. We ask in Jesus' name. Amen.